Click the image below to see the digital version of the magazine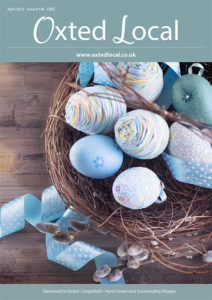 Oxted Local is THE local community magazine for Oxted and surrounding Villages.
Having been in print since 2005 we have built a reputation locally for providing an interesting and varied magazine which is distributed every month.
Oxted Local has a door-to-door distribution of 6,600 via Royal Mail throughout the RH8 postcode. In addition a further 600 magazines are distributed to pick up points in Oxted, Limpsfield and Godstone. These consist of pubs and cafe's, but our main pick up point is Oxted Train Station.
We consider it very important to have a correct ratio of content pages to advertiser pages in the magazine. We publish topical articles that are printed each month, such as monthly Horoscopes, Gardening advice, Technology Tips, Book Reviews, Recipes and a Health Blog. We also publish a variety of articles about local organisations, events, places to visit and local news.
Testimonials
"I felt I must write to say thank you to your publication. Since advertising with you via the magazine and online we have seen a marked increase in the number of new members in our groups.
"We are passionate about helping even more local people to lose weight and your publication has helped us reach out to help even more members achieve their dream."
"Being Picture Framers we cover a wide area with our service. Since advertising in Oxted Local and Forest Row Local publications we have attracted numerous new customers from those areas, contributing to the continuing success of our business."
"As a local independent business, the magazine is a great way to get our latest offers and brand awareness directly to residents and businesses. We have noticed a significant increase in customers since advertising here. Arranging our monthly advert is very easy to do, Katherine and Scott are great to work with."
"We have advertised in Oxted Local for several years. Not only are the team there very professional and helpful, we have had a lot of work generated through enquiries from our adverts"
"I have advertised in the Oxted Local for a few years now and have had many clients get in touch as a result.
"The magazine is always well presented with stunning photos and a creative layout which reflects my clients and my own style. The content appeals to the local community spirit and promotes it's people and events as well as being a useful 'go to' advertising directory"
"As a local building company mainly focused on customers within the Oxted and Limpsfield community, we have always found advertising in the magazine extremely effective.
"Advertisement costs are highly competitive in comparison with similar publications and their administration is prompt, friendly and efficient. We couldn't recommend them highly enough to any local business looking to establish themselves within the community."
The Building Professional
If you would like any further information please do not hesitate to contact us.