East Surrey Walkers Improve Popular Local Footpath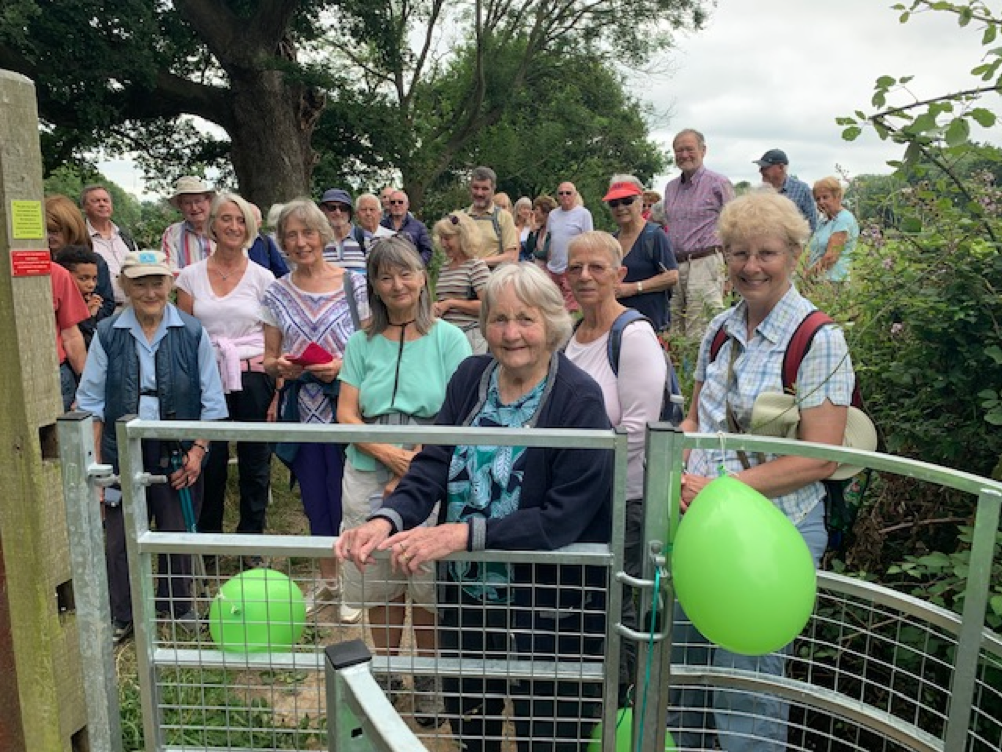 The public footpath that goes from opposite The Haycutter at Broadham Green to Oxted Mill has not been 'user friendly' until now, despite being on the route of the Greensand Way, a major long distance path. Until recently there was a difficult stile to get over by the road and two more as you walk through the fields. One of these was particularly difficult to get over, being on a slope with mud and water gathering nearby. East Surrey Walkers regularly use this path as part of the route of a 3 mile Amble from Old Oxted, designed to cater for those who prefer a gentle pace and to follow a route that avoids stiles and hills.
So, after lengthy negotiations between Surrey C.C. officers and the landowner, it was agreed that the three stiles could be replaced by kissing gates. East Surrey Walkers offered to fund two gates and the other was donated by South Bank Ramblers. All three gates were then installed by the Path Maintenance team of East Surrey Walkers. One of the gates is in memory of Alan Wales, a very active member of the walking group, who passed away last year and his widow, Margaret, officially opened the gate recently.
Now that the route is stile free, there have been many positive comments. Anne Simmons, who leads the regular Amble, said "This will make a big difference to our enjoyment of the walk, which is aimed at those who either want to take up walking or get back to walking after illness or injury"  
East Surrey Walkers was formed in 1983, originally as East Surrey Ramblers, and has around 400 members. We are a sociable group whose primary aim is to enjoy walking in the countryside with an interesting variety of scenery; we walk in Surrey, Kent and Sussex.
Moderate sunlight exposure helps improve your mood and focus by boosting the serotonin levels in your body.  Walk with us and get your share of this 'happiness hormone'. What are you waiting for? – come and join us – a friendly group that enjoys talking whilst walking in the countryside, making new friends and having pub lunches.  
We also enjoy various social events throughout the year and organise holidays together, both in the UK and abroad.  Each week we offer a selection of walks for different abilities, ranging from 3 – 12 miles.  There's bound to be one that suits you and you are welcome to walk with us on one or two occasions before you decide whether to join East Surrey Walkers.  We'd love to have your company…
Some of our walks coming up in September…
7 Sept Saturday 10am Bletchingley Leisurely  6 miles 
10 Sept Tuesday 10am Oxted
Fast Fitness Workout  3.5 miles
15 Sept Sunday 1.30pm Tatsfield Tea Walk – 
Leisurely 4.5 miles
18 Sept Wednesday 10am Edenbridge Moderate   6 miles
26 Sept Thursday 10.30amGodstone
Strenuous (1.30mins)  5 miles
28 Sept Saturday 2pm Woldingham Afternoon Amble  3 miles
For details of where to meet and our full programme please visit www.eastsurreywalkers.org.uk