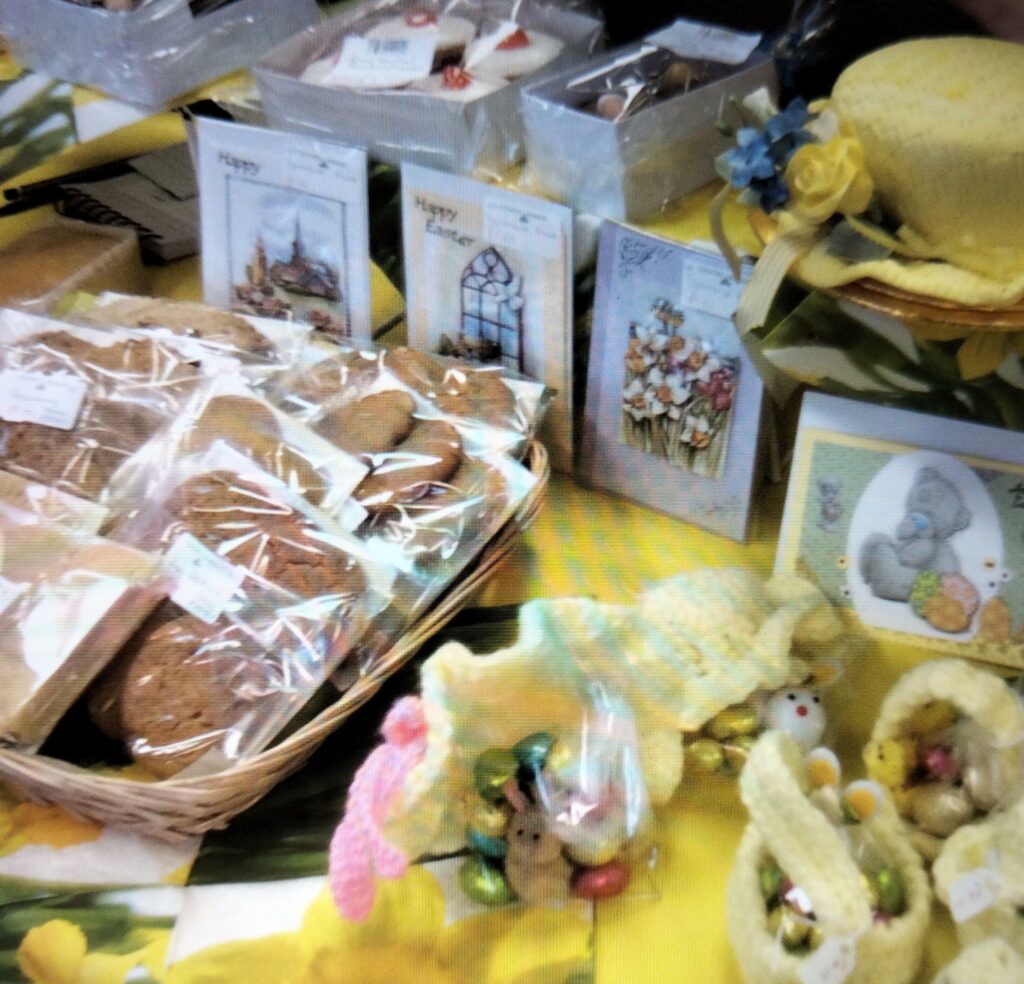 Friday mornings 9.30am to 11.30am at the Woodhouse Centre, (opposite the Leisure Centre)
In December we wrote about our "Hidden Gem" with 46 (now 47) years trading history, where all goods must be home cooked, hand crafted or locally grown. We really want to come out of hiding! 
Easter delights are available now and we have been taking orders for special items, Simnel cakes, mini eggs, chocolate bunnies, canapes, main meals and desserts. Please get in touch if you would like anything and we can discuss your options.  
We are seeing a gradual increase in footfall of customers and we would love more local people to shop with us. We share the hall at the Woodhouse Centre to maintain our focus on "LOCAL" as that is where we are.
Our existing customers are very happy to see us in action again, and we are slowly rebuilding our customer base.
We have had many compliments from our loyal friends for the food service we provide. It was a lifesaver to many during the extended lockdown.
We continue to deliver to many of our elderly customers who are physically compromised, and we have also continued to run an order system on a weekly basis for our regulars. We hope soon to extend the number of goods available over the counter with the intention of having a variety of foods for sale to new customers on market days. 
We have welcomed several new contributors; artists, crafters, another gardener, and the Woodhouse Centre volunteers join us to promote and sell some of their great crafts. There is no competition, and they compete amicably with our crafters, sharing skills and joining in the "knit (or crochet) and natter" corner. Altogether we are a friendly bunch, and look forward to meeting their new manager, Liz Martin-Lawrence.
We are still offering plants and soon will have more as the days lengthen, with early rhubarb, vegetable seedlings, bedding plants and perennials. Our home grown vegetables are coming along.
Visiting the market is not just for the delicious food, but to see the formidable variety of arts and crafts on offer. No two weeks are ever the same and that is just one reason to join us as often as possible. We have our coffee shop where you can relax, enjoy a scone or cake, meet friends or just come for a chat.
There are handmade greetings cards – all at amazing prices. Buying the gift to go with the card could not be easier! Choose from handmade jewellery, beautiful quilts, clothes for children and adults, hand woven items like scarves, wall hangings, blankets; chalkboards, pot holders, coasters, watercolour paintings, eco dyed paper and notebooks – the list goes on.
You will be sure of a warm welcome. Happy Easter to you all