The Tale of Bletchingley Skills Centre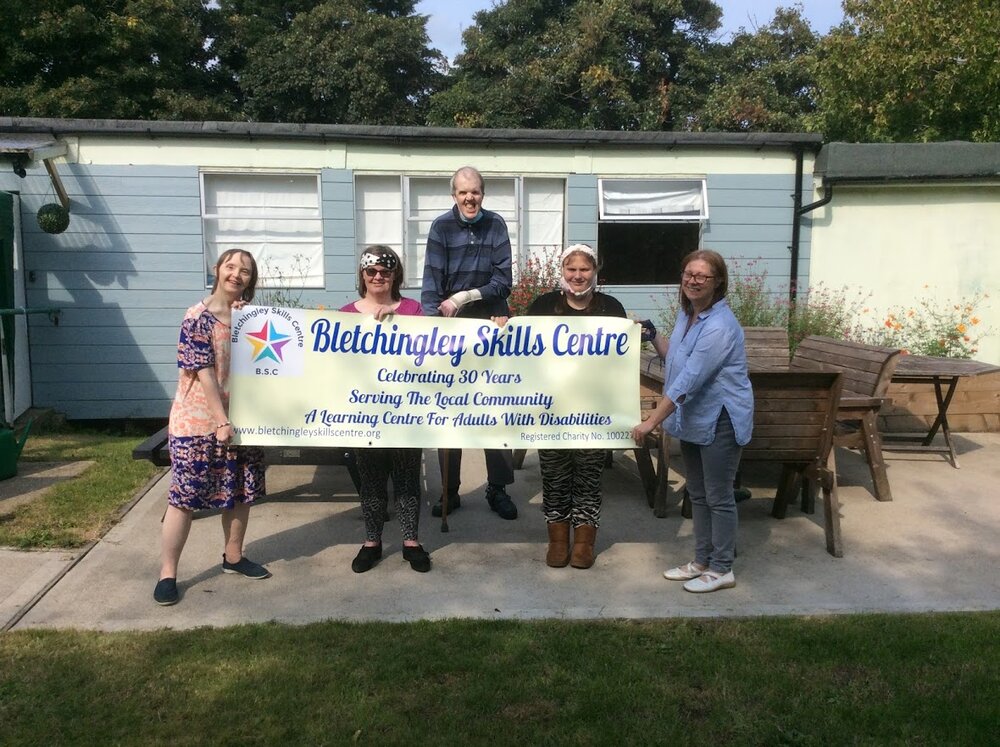 Tucked away in the centre of Bletchingley village is a long established but perhaps under-acknowledged little gem of a charity providing life skills lessons for physically impaired adults from the areas in and around the village notably including Oxted. The charity, now Bletchingley Skills Centre, evolved from Tandridge Phab club and set up as what was then known as the Skills for People Centre on a site off Stychens Lane in 1989.  The official opening was held on the 29th June with local celebrities Dame Judi Dench and Sir Richard Stilgoe in attendance. The Centre has been there ever since.
Demand for the educational courses the Centre ran increased substantially and after becoming a registered charity in 1991 Caterham Harestone Rotary Club made BSC its major charitable project for 1993. Their help provided a significant extension and refurbishment of the existing buildings. This made a number of new courses possible from Cookery, Computing through Yoga and at one time even Spanish! The centre has continued to develop new courses and serving physically disabled adults to this day. 
Now in its 32nd year it has many students, volunteers and supporters drawn from Bletchingley community itself and the communities around it. Always involved in the community BSC participates regularly in local events such as Bletchingley Village Fair and the Godstone Fete as well as hosting locally its own fund raising events from Country & Western dances to Race Nights! It also engages with other community enterprises including local Rotary and Lions Clubs while community leaders and influencers often attend the AGM meetings. 
The charity takes a holistic approach to the life skills lessons they provide for the physically disabled seeking to provide not only useful skills but also a friendly, welcoming and comfortable place to expand their individual creative abilities allowing them to socialise while encouraging independence and building self confidence. Celebrating ability and embracing individuality as they'll put it. It's a formula that has been developed and honed over a number of years successfully retaining some long term students as well as regularly attracting new students. It has a purpose and serves a clear need.
However providing these services has not been without its many challenges. In the last year Covid, as it has with small and large charities alike, has given many difficulties which were amplified as following the withdrawal of funding support by Surrey County Council in 2017 the charity has been self funding and supported by donations from a number of kind supporters. But still they continue to grow and in recent years have introduced software to help those with sight impairments use computer facilities and included other new courses such as Drama, Arts & Crafts, Music and now even Makaton courses which enables those with speech impairments to communicate using signs and symbols.
So what does the future hold? More challenges for sure. Compliance are significant issues for all charities. Funding most certainly! The need for volunteers with many different skill sets a constant essential. But with careful financial husbandry the future also holds many opportunities. BSC serves an often neglected part of our community and does so with warm hearts and good humour. So next time drop into the centre and see the work they do for yourself. Go along and say hi whenever you see their Teddy Tombola stall at local fairs. You'll find their kindness is contagious.  
www.bletchingleyskillscentre.org