CARE HOME PARTNERS WITH LOCAL SCHOOL FOR NEWLY LAUNCHED PEN PAL SCHEME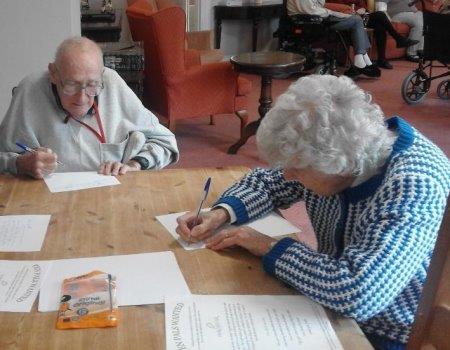 Tandridge Heights Care Home in Oxted have teamed up with a local Primary School for a newly launched pen pal scheme, connecting residents within their homes with creative writing pupils. 
Residents of Tandridge Heights, which is run by Barchester Healthcare, have been sharing their stories of the past with year four students, and making new friends in the inter-generational scheme.
Letter writing, which is part of the school's creative writing curriculum, has covered topics such as holidays and places to visit, as well as cautionary tales from both the students and the residents of Tandridge Heights were able to share their interesting tales of the past, from what their hobbies were, number of brother and sisters and what their favourite subject at school was.
Jean Hiley General Manager of Tandridge Heights, said: "Residents have really enjoyed sharing their stories with the young pupils; so many have incredible tales and they love hearing the adventures of the students. The initiative has been so successful that we've even received emails from other schools across the country, and as far as Australia and Switzerland, asking how they could set up their own pen-pal projects! The residents at our home have wonderful stories, they've really enjoyed telling their tales with the young ones." 
Tandridge Heights care home is run by Barchester Healthcare, one of the UK's largest care providers, which is committed to delivering personalised care across its care homes and hospitals. Tandridge Heights provides residential and nursing care for dementia and able bodied residents from respite care to long term stays with a total or 75 beds.
Our teams of highly-qualified and attentive staff are passionate about independence, dignity and choice for all residents within their care. Our well-trained care staff focus on the individual needs of each resident, developing a bespoke care plan for each and every person. We employ motivated, attentive staff, who are committed to excellent care and customer service.
At Barchester, we celebrate life and make sure the people we support do too. We do this by treating everyone as individuals, and always tailoring our services and support to meet their needs, which vary person to person. To find out more about Barchester or to find your closest care home, please visit our website www.Barchester.com.