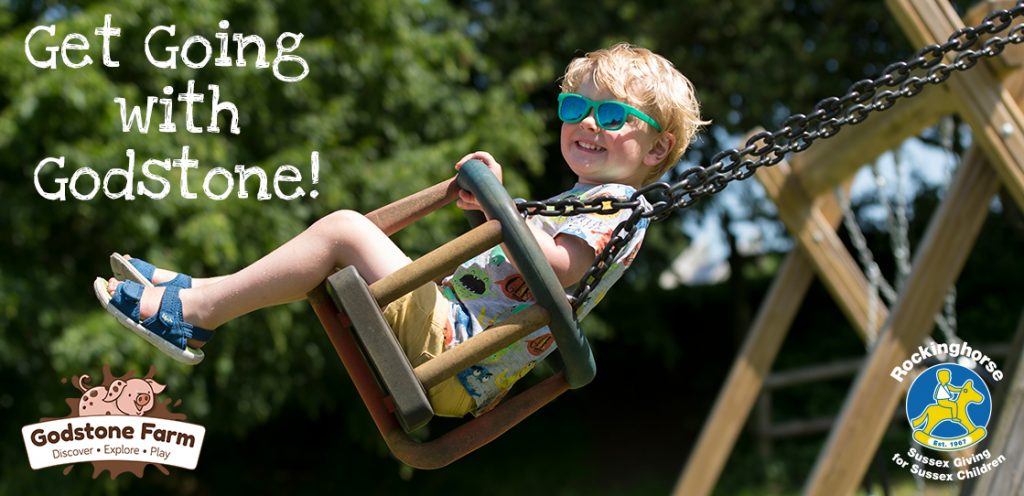 Godstone Farm is joining forces with Rockinghorse Children's Charity to encourage their young supporters to 'Get Going with Godstone'.
Can you walk as far as an alpaca or run as fast as a rhea? Perhaps you can swim as far as a fish or cycle faster than a galloping horse? Whichever animal you would like to be, why not see how far you can walk, run, cycle or swim throughout the month of June by signing up to 'Get Going with Godstone'.
The month-long challenge is aimed at getting young people outdoors, keeping them active and raising funds for Rockinghorse Children's Charity.
All you need to do to get involved is visit the specially designed campaign website, sign up and get moving. Any activity counts, you just need to get sponsored for your activity and log any distance your child covers on the website.
Plus, if you visit Godstone Farm during June there are a range of extra activities to help add to your total and even win some great prizes.
Godstone Farm is over 40 years old, originally opening just for school visits, but in the following years it grew and grew and is now open to all children and their families, 363 days a year. Across its 45-acre site there are over 500 animals, great extensive indoor and outdoor play areas and new facilities being added all the time to maximise the fun on a day out. 
Nicola Henderson, CEO of Godstone Farm, is really happy to be partnering with the charity: "Since hearing about Rockinghorse, myself and the team at Godstone Farm have been keen to support such a worthwhile cause with their fundraising efforts. As a children's attraction where our focus is on wholesome fun in the outdoors, it's an honour to be able to work with the dedicated team at Rockinghorse to develop this challenge centred around children keeping active and contributing to a great cause."
All the money you raise in sponsorship during this challenge will go towards helping the charity with their Spring Campaign to raise £25,000. This will fund vital equipment and services for extremely sick babies and children across the whole of East and West Sussex.
And if participants reach particular fundraising milestones, they will also get some prizes from courtesy of the farm:
Raise £50 and receive a free child's day pass to Godstone Farm. Raise £100 and receive a free adult and child day pass for Godstone Farm.
Raise £150 and receive a free family day pass to Godstone Farm and an ice cream voucher.
And the top fundraising at the end of the month will win a Godstone Farm family day ticket, lunch in the farm's new restaurant and a private animal encounter or the top fundraiser. So, if your children are animal lovers who like a challenge, this might be a perfect thing to get involved with.
Janella Merritt, Head of Fundraising, thinks it's a great way for families to enjoy the outdoors after being stuck inside for so long: "Anyone with young children will appreciate how much they enjoy getting outside, splashing in puddles and running around. Which is why it's so fantastic to be partnering with Godstone Farm with this campaign and helping fundraise for us. It means that children can play, have fun, and meet some lovely animals whilst also helping poorly children in their community."
To find out more or to sign up, head over to the Rockinghorse website at www.rockinghorse.org.uk and search 'Godstone'. Then complete your registration and Get Going with Godstone!