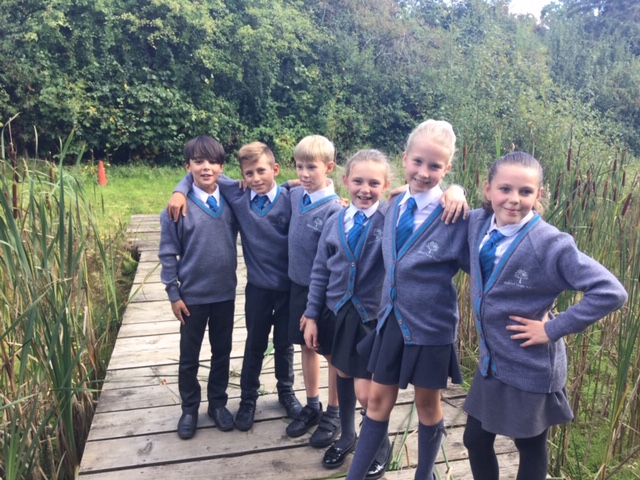 What a difference a year makes!
A new year sees big changes for one of our local schools.  Holland Junior School in Hurst Green has over the years had its critics, but with a new head, Miss Gill Robertson earlier this year, it's all change at this little school with the big heart.  The children's wellbeing is at the very centre of this school's ethos, and it shows with happy smiling children running across the playground in the very smart new colours of their school uniform. 
Holland Junior School believes in developing every child's unique talents – they even offer rock band lessons!  The school has had a major upgrade in the last year with the building being painted in the new school colours; the back playground has been transformed with the very popular outdoor gym, new games markings, a new table tennis table and fantastic new football goals. There is also an outdoor classroom, sensory garden and the secure, fenced-off pond and wildlife area, which is currently having an upgrade. This is where the pupils come for Forest School, which enables them to learn new skills, stretch their imaginations and have fun in the wooded pond area – the children just love it!  
Holland Junior School also introduced some new members to the school at the end of last term with a group of chickens calling the school field home. The children have a rota to care for these much-loved birds, which they had a competition to name.  Inside school the changes are just as noticeable. All the classrooms have brand new state of the art smartboards, bright new chairs and desks and are fully air-conditioned making a very comfortable learning environment. The classrooms are full of enthusiastic children all keen to learn and participate in their lessons.  The school library is another amazing space full of books for all abilities, with little cubby holes for the children to snuggle into with a book and read. 
Of course, results matter to any parent choosing the right school for their child and Holland Junior School is able to hold their head high this year with a very good set of SATs results demonstrating that the school performs in-line with national standards – another huge change in a year.  Holland Junior School is active in the local community and has links with local groups including St Johns Church where celebrations are held and Windmill Manor Care Home where the children go to sing and interact with the residents – at Christmas the children get to decorate the Christmas tree!  
Holland Junior School also offers every year group the opportunity of a residential trip starting with a sleepover at school. There is a glamping trip forest adventure; a winter explorers' trip (with everything from climbing to dry-slope skiing and kayaking), and after Year 6 tests a well-deserved Wildchild adventure – sleeping under canvas, relaxing, celebrating and developing team building skills to get the pupils ready for their new schools. Of course, no school operates successfully without a dedicated team of professional, nurturing staff, which Holland Junior School is very proud and lucky to have. 
What a difference a year makes.  How lucky are we to have such an amazing caring achieving school right on our doorstep?
If you would like to visit the school, Open Days are advertised on the school website, or give them a ring and book in for a visit. The children would love to show you around! 
01883 715801