Oxted Boot Fair Sunday 18 August – Master Park, Oxted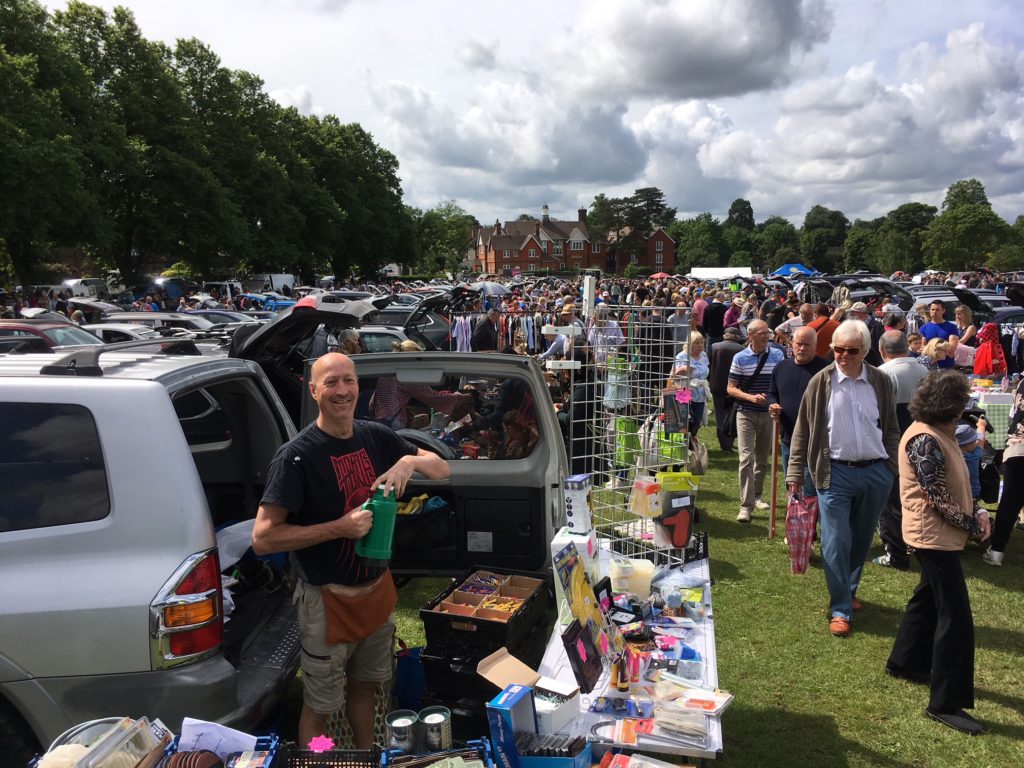 The Oxted Boot Fair has been a regular feature of summer in Oxted since 2010, starting off as a once-a year event in June and, for the last four years, twice-a-year – June and August. The next Oxted Boot Fair will be held on Sunday 18 August, as usual on Oxted's Master Park.
The Oxted Boot Fair raises money for charities while, at the same time, offering residents of Oxted, Limpsfield, Hurst Green and other local communities the chance to have a good clear-out at home and make some cash for themselves. Of course it's also a great opportunity for visitors to pick up some fantastic bargains – books, plants, clothes, toys, games, DIY gear, tools, pictures, bric-a-brac…. you name it, there'll be somebody selling it at the Oxted Boot Fair!
Since its inception, the Oxted Boot Fair has raised around £35000 for charities, of which around half has been donated to Master Park, where the event is held. Master Park is NOT council-owned and its trustees need to raise over £25000 each year for maintenance, planting, bin-emptying etc
Over the years, Titsey Rotary Club has funded the planting of trees, provided new equipment for the children's playground, paid for repairs to the playground safety surface, bought new benches (to replace vandalised ones!) and, in the last year, paid for a new entrance barrier and a new set of gates for the Park. 
Pammy McNaughton, Chairman of Master Park Management Committee said: 
"The Oxted Boot Fair is a regular fixture on the 
Master Park calendar and we are immensely grateful for the support Titsey Rotary Club gives us. The new gates are the latest in a long line of improvements to the Park that have been funded by Titsey Rotary Club. Quite honestly, I don't know how we would maintain Master Park to the standard we do, without Titsey Rotary. Thank you, Rotary!"
Titsey Rotary Club is hoping to raise up to £3000 from the August Oxted Boot Fair. The pitch fees are £10.00 for cars and small vans, and £20.00 for large vans if pre-booked/pre-paid, or £5 extra in each case if sellers just turn up and pay on the day. 
The August Oxted Boot Fair can take up to a maximum of 250 pitches, so please book as soon as possible to avoid disappointment. To book your pitch, please visit www.titsey.org.uk
If you don't want to book a pitch, pop along to Master Park on 18 August and browse the stalls – there'll be lots of great bargains to be had. Entrance is free for buyers and the Oxted Guides will be running their regular refreshment tent, offering top-quality burgers and hot-dogs (including veggies) as well as hot and cold drinks. There'll also be a fresh fruit & veg stall, and the regular ice-cream van will be in attendance.