Oxted cyclist shares great work of Sight for Surrey with his 100 mile Prudential Ride London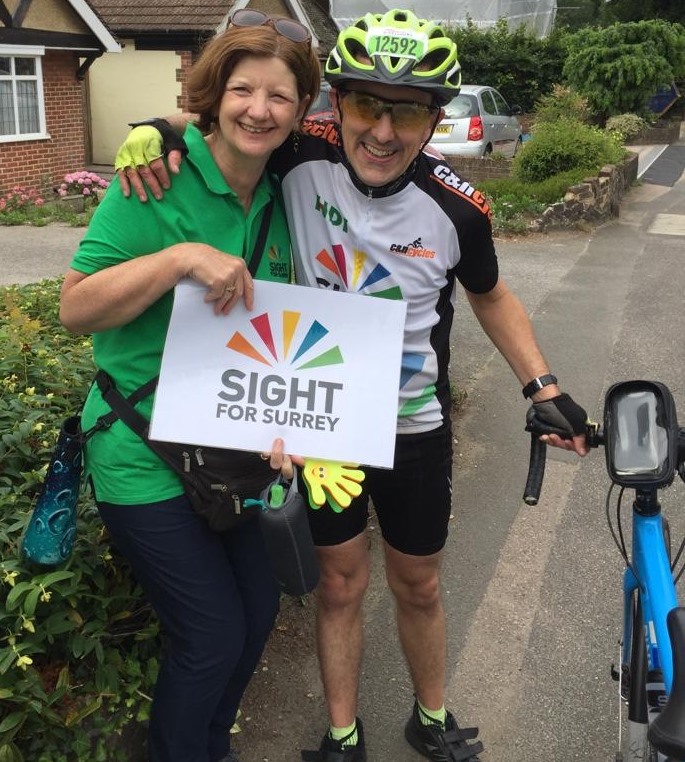 If you had a visual impairment or hearing loss where would you turn to? 
Sight for Surrey is a charity providing support to over 7,000 people who are blind, partially sighted, Deaf, deafblind and hard of hearing including 620 people in the Tandridge area. 
Chris Zahner from Oxted was keen to publicly thank and fundraise for Sight for Surrey due to the support and activities provided to his daughter Chloe age 5.  Due to a rare genetic anomaly, Chloe was born with cataracts which were removed but this left her partially sighted.
Chris said the support from Sight for Surrey and seeing Chloe gain confidence was all the motivation needed to complete the 100 miles Ride London on Sunday August 4th- he finished in an impressive 5 hours 41 minutes!
Witnessing Chloe flourish at some of the events, the Zahner family have enjoyed a variety of activities organised by the charity's Children and Young people's team which included ice skating, visiting a fire station and meeting Father Christmas at RHS Wisley.  At RHS Wisley the family were guided by a cheeky elf with enticing audio descriptions so the visually impaired children could listen and understand what was happening.  Chris says "It was a very special outing and Chloe speaks about it to this day and can't wait to go again". 
Sight for Surrey have created some very special memories for Chloe and her peer group for which the family are grateful and as Chris highlighted during his SUSY radio interview recognising that "for blind and partially sighted people these activities might not normally be available but all the outings are specifically tailored for them. We're grateful for this and their logistical practical advice and experience." 
Sight for Surrey's children and young people's team pride themselves on offering a wide range of fun events for visually impaired children aged 0-25 including horse riding, willow weaving, outdoor adventure and chocolate making.  Michelle Winstone, Senior Recreation Co-Ordinator said "we arrange a wide range of different activities all of the year and try to ensure we have activities that suit all ages, interests and abilities-we enjoy challenging perceptions of what blind and visually impaired young people can achieve".
Sight for Surrey had 5 talented cyclists who successfully tackled the Surrey Hills and their donation pages are still open and featured on our Facebook page @SightforSurrey.   Funds raised will go directly to continuing the wide range of equipment, assistance and activities for anyone in Surrey affected by sight and hearing loss. 
Bob Hughes Chief Executive of Sight for Surrey said "Well done to Chris and all our Ride London 100 cyclists-such a marvellous achievement!"
Sight for Surrey are currently in all Tesco stores across Surrey.  We would like to ask for support from the Oxted area Tesco shoppers with their blue tokens which will fund the Eye Clinic Liaison Officers who are hospital based and provide guidance and support when an eye condition is diagnosed.  
Chris's online fundraising page is open:
https://uk.virginmoneygiving.com/fundraiser-display/wROFundraiserPage?userUrl=chriszahner&pageUrl=3
Chris's radio interview on SUSY Radio can be heard on: www.susyradio.com/2019/07/19/chrissy-meets-chris-zahner-cycling-ride-london-for-sight-for-surrey/