Tandridge Together Community Fund for 2019/2020 increased to £30,000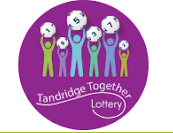 Last night's Community Services Committee unanimously agreed to increase the overall funding available for small grants from the Tandridge Together Community Fund from £20,000 to £30,000 in 2019/2020.
Last year, the Committee agreed to award £20,000 in grants of up to £2,000 to local charities and voluntary groups, which demonstrate the work they do improves the health and wellbeing of people living in the district. This fund is made up of money raised by people buying weekly tickets for the Tandridge Together Lottery and the Council's Small Grants Fund.
Thanks to the continued success of the Tandridge Together Lottery, which launched in March 2018, the fund available to local good causes this year has been increased. This year, an overall fund up to £30,000 is now available, made up of £23,000 raised by people buying tickets for the Tandridge Together Lottery and £7,000 from the Council's Small Grants Fund.
Councillor Beverley Connolly, Chairman of the Community Services Committee, said: "We are delighted to be able to increase the overall fund to £30,000 which will help good causes across the district continue their invaluable work in the community. To date the Lottery has raised more than £130,000 for good causes and created over 5,000 winners. We are grateful for the support from the good causes which have joined and our lottery players.