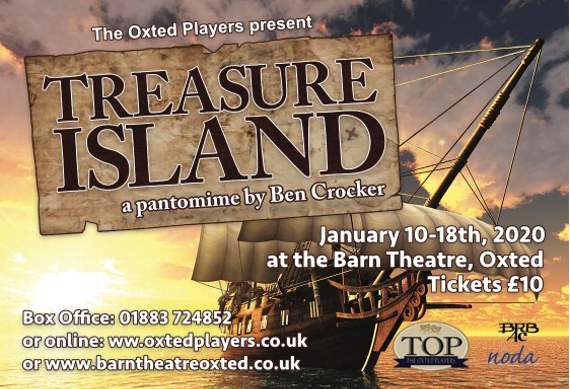 This January The Oxted Players will be performing their annual pantomime at the Oxted Barn Theatre in Bluehouse Lane. This year's offering is Treasure Island and will run from the 10th to the 18th January. I'm sure most of us know the story of Long John Silver, but the Oxted Players are offering a twist on the story which promises to be entertaining for the whole family. The infamous pirate will be crossing swords with the 'Smuggler's Cove Women's Institute' in this laugh a minute pirate adventure. Last year's pantomime was the very successful Robin Hood and in 2018 they performed Puss in Boots. The Oxted Players have deservedly won a reputation for pantomimes that rival any professional production.
The Oxted Players, formerly known as the Student Players, performed their first ever production at the Barn Theatre 1948, with their first pantomime being performed in 1950. They now present an annual autumn and spring production, as well as a panto each January. They perform a variety of productions from dramas to comedies and take part each year in the Southern Counties Drama festival. The society have taken productions to various theatres around the country including the Ashcroft theatre and the Minnack in Cornwall.
Oxted is very proud of its charming and characterful Barn Theatre which has been described as the 'jewel in Oxted's crown'. Opened in 1924 it has been updated and improved over the years offering a comfortable experience for both audience and performers. Both the theatre and the amateur dramatic societies that perform there are supported by a loyal group of helpers who raise funds as well as turn out for each production. Building sets, working back-stage as well as front of house. They turn their hand to all aspects required to bring each production to life and new members are always welcome. Children are eligible to join the Young Oxted Players from the age of eight giving them the opportunity to perform in the annual pantomime as well as in the youth production which is held every two years. There can also to take part in some of the main plays when child character parts are called for.
There has been annual summer workshop run in August for members of the Young Oxted Players since 1999. This provides them with an opportunity to be involved in a play written and directed by David Rowan, a creative playwright and actor. Each workshop lasts a week and ends with a performance on the Saturday evening. In 2007 the YOP began taking part in the Southern Counties Drama Festival where they have won awards for acting, directing and stage presentation. They have made it through to the quarter finals of the 'All England Drama Festival' on not less than three occasions. In 2009 a February half term workshop was introduced giving young members the opportunity to spend half term learning drama skills, rehearsing and performing in a short play. These workshops became an annual event from 2012, alongside the separate bi-annual production, offering child members the chance to hone their skills in all areas of production, from performing to helping out backstage and learning about sound and lighting.
To find out about the pantomime and availability of tickets as well as getting involved yourself check out the website www.oxtedplayers.co.uk New members are welcome from age 8 to 85 plus.