Santa came to town after all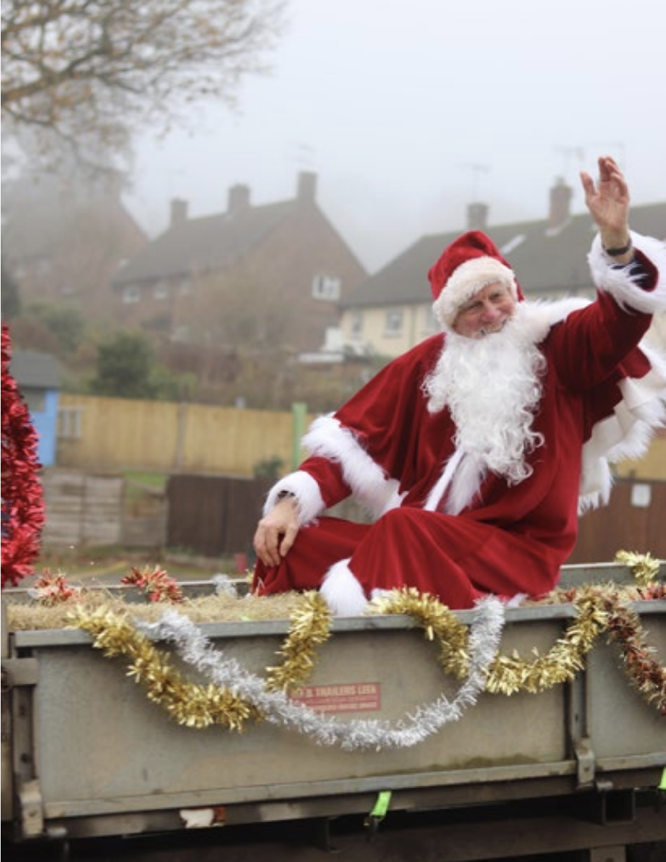 Despite the restrictions of the Covid 19 pandemic, Oxted Rotary took on the challenge to do what we could to help others at Christmas time.  The aim was to raise funds and help the less fortunate within the community and here's a summary of how we did. 
Our Christmas Special Campaign was spearheaded by PR involving Twitter, Facebook, local Parish magazines and radio broadcasts and, of course, by the Oxted Local magazine, to whom we owe so much for past publicity.  Many thousands of people were reached via the PR campaign with Twitter and Facebook statistics exceeding 10,000 and donations peaking on each social media posting.  
In conjunction with the PR campaign, Club Members provided a safe, physical presence at Knights Garden Centre where collection buckets were strategically placed, enabling social distancing to be maintained when Rotarians were present to welcome visitors and thank those who donated.  An online TEXT campaign was also launched allowing members of the public to text a donation to the given number.
A Christmas tree promoting Rotary was erected in a prominent position in the middle of town, thanks to local business, Elements, on whose premises it was erected.  This helped the text campaign to be further advertised to passers-by and to maintain the profile of Rotary.
The Grant scheme focused on those in need over Christmas, offering food vouchers from Morrison's and, as we are also an official Referral Agency for the Caterham Food Bank, additional food parcels to those in particular need.   
At the request of St Peter's School, Rotarian Santa made a special socially distanced visit, although sadly, Rudolf and his team of Reindeers were in self-imposed isolation due to Covid-19, so transport arrangements had to be improvised.  Santa was greeted by the students who were delighted to see him.  It was strange how Santa bore a remarkable likeness to our President – many thanks to Santa for being a great sport. 
Our international efforts this year focused on Shoeboxes, a Rotary scheme that has been operating for over 40 years and sends regular shipments to Eastern Europe by way of small gifts packed in 'Shoeboxes'  that can bring a surprise and happiness to those who have truly very little.  This year, 500 boxes were gathered, filled by schools, businesses and Scout groups and organised by Rotary clubs in our district.
Almost all families that applied for our Christmas vouchers were successful and, hopefully, enjoyed a happier Christmas as a result, but our work continues and although the seasonal festive period is over, we remain steadfast in our efforts to help those in hardship. Our Grant Scheme to provide families living with a disability and those with only one parent is still available, so we would urge all readers to publicise this fact and ask anybody in need to contact us by email at grants@oxtedrotary.org.uk using GRANTS in the subject line.
And finally, a huge thank you to all those that contributed to our Christmas fund! Together, we brought a little bit of Christmas cheer to a lot of families in and around Oxted.