THE BULL INN VOTED BEST PUB IN SURREY!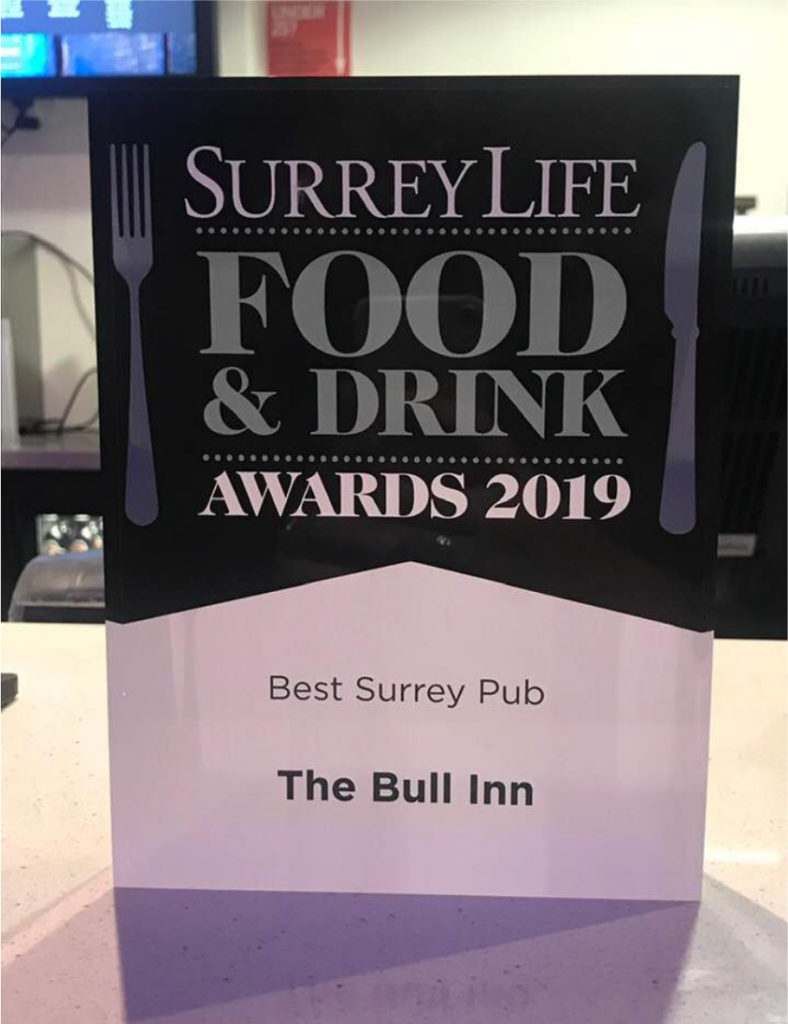 The Bull Inn, Limpsfield has been named Best Surrey Pub of the Year at the Surrey Life Food & Drink Awards. This is an amazing achievement for the Limpsfield village pub's first year owned by Enterprising Limpsfield Limited, the company formed by local residents, which consists of over 200 largely local investors.
Up against two excellent finalists in the Best Surrey Pub Category, The Beehive, Englefield Green and The Bluebell, Dockenfield, The Bull Inn had very stiff competition, but won the night in the end, with the award being announced at Thursday's ceremony at G Live.
Now in their sixth year, the Surrey Life Food & Drink Awards have gone from strength to strength and are now viewed as a prestigious annual event and accolade for Surrey-based food and drink businesses.
Businesses and individuals are nominated by the public over a six-month period, with the top six in each category making it to the final cut, where each is discussed at length by the judging panel, who then reduce the finalists to a final three. These top three are then marked against strict criteria to establish the overall winner.
The Bull Inn, an historic village pub going back hundreds of years and the heart of Limpsfield village, re-opened in November 2018, having undergone extensive renovations after its purchase by local investors. It provides excellent food and drink in a beautifully refurbished building, with the added bonus of its upstairs private dining and meeting facilities, a sun-kissed outdoor deck and a beautiful converted barn, The Grain Store, which hosts sporting events, weddings, pop-ups, live music and family entertainment.
The community-centric business aims to be much more than just a pub, and also hosts a number of activities for locals, including guided walks, a weekly cycle ride, exercise sessions and regular tastings, focusing on locally produced food and drink.
Adrienne Gray, co-founder of Enterprising Limpsfield Limited, said, "We are really quite blown away by this incredible achievement. It's amazing to think we opened less than a year ago. So much has happened in that time and we have only just touched on all the things we want to do at The Bull Inn".
"We have been amazed by the support and good will of the local community and local media, but it's been a massive team effort," she continued, "and I'm so grateful to our fabulous chefs, especially Denes Miko; all our lovely bar and wait staff; our office manager, Lauren, the board members, our investors, regulars and our incredible General Manager, Jess Hurren for her tireless dedication in the development and management of the pub right up to the very last minute!"
As Jess has recently gone on maternity leave, The Bull Inn now welcomes James Lawrence as her maternity leave cover.
"James has big shoes to fill," said Adrienne, "but we know he will do a fabulous job, taking over from where Jess left off, in running The Bull and developing our offerings, events and activities. I'm sure he'll become a very popular and well-known face in the village in no time! We wish Denes and Jess all the very best with their new baby".
As part of ongoing development, Enterprising Limpsfield Ltd, is now offering a new investment opportunity in order to raise a small amount of additional capital for works (up to £188,450) to remain a primarily equity business, with minimal debt.
"This is a great way to get involved in your local community and to help cement the future of our fabulous historic pub and indeed the village itself," said Adrienne Gray. "The Bull is very much at the heart of Limpsfield and going from strength to strength as we consolidate our offer, providing a variety of locally-sourced food and drink, a great venue for different types of events and a range of community-based activities in collaboration with local enterprises and associations."
All investment enquiries about this opportunity should be directed to Carolyn Robertson at Growthdeck:
Carolyn.robertson@growthdeck.com
For table bookings and even enquiries, please contact info@thebullinnlimpsfield.com or go to the website, www.thebullinnlimpsfield.com