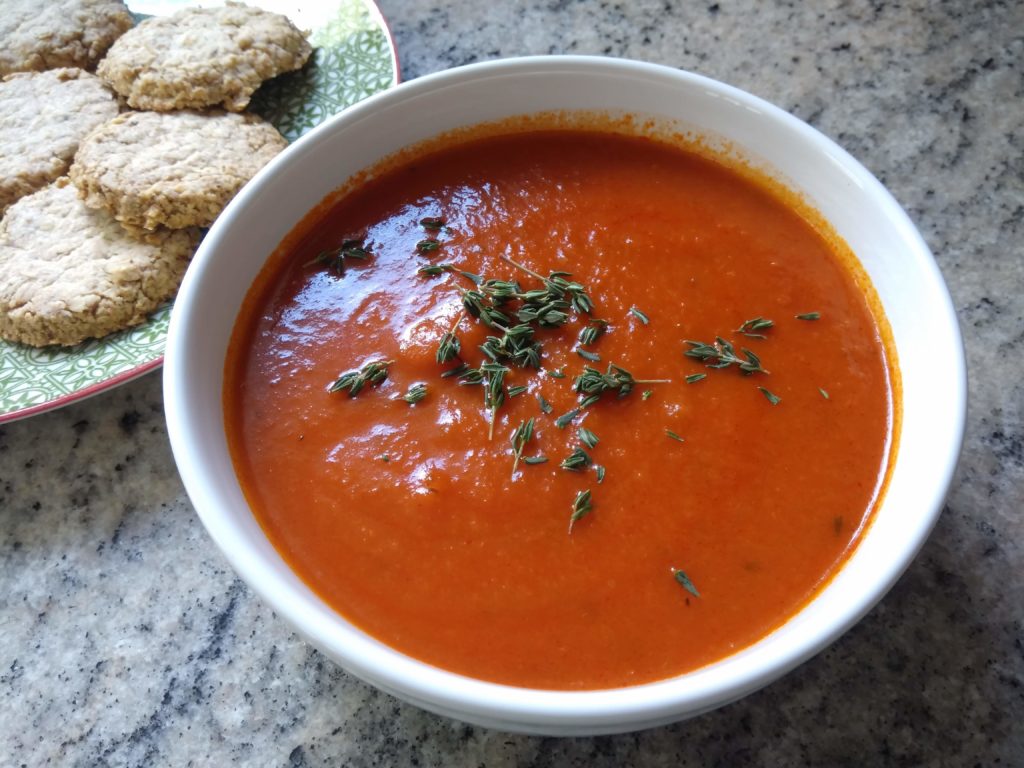 ROASTED TOMATO, GARLIC AND THYME SOUP
ROSEMARY AND THYME BISCUITS 
October makes me think of cuddly jumpers and big bowls of soup. I'm not going to go for the obvious pumpkin – so the first recipe today is for slow roasted tomato, garlic & thyme soup. Serves 2 – 4 people (depending on portion size)
8oog baby plum tomatoes (baby plums are naturally sweeter so you shouldn't need to add sugar – but use whatever tomatoes you can find).
6 garlic cloves from a head of garlic
1 bunch of fresh Thyme
2 tablespoons olive oil
Salt & pepper to taste
600ml fresh stock (or from a cube) vegetable or chicken stock work best. 
Preheat oven to 220c 
Slice the tomatoes and arrange in a baking dish. 
Take 6 garlic cloves off the bulb and scatter amongst the tomatoes (no need to take the skin off the garlic cloves).  Arrange 6 Thyme stalks in between the garlic & the tomatoes. 
Pour 2 tablespoons of olive oil over the tomatoes/ garlic and mix everything into the oil so that everything is lightly coated. Season to taste.
Place in the oven for 30 mins to roast. 
Remove from oven. Leave to cool. Remove and discard the thyme stalks and peel off and discard the garlic skins.  Then transfer everything (including juices) to a blender and blitz with the stock. 
Place in a saucepan and bring to the boil. Then reduce the heat and simmer for around 25 mins – stirring occasionally. 
The soup will reduce down and the flavor will intensify.  If the soup is too thick, just add some more stock. Taste test – depending on the tomatoes you used you may need to add a little sugar if the taste is too sharp. 
Allow to cool and then store in fridge in an airtight container. Freezes well too.
Rosemary & Thyme Oat Biscuits
These biscuits are lighter than a traditional oatcake but heartier than a cracker.  They go really well with this or any other soup or just with cheese and grapes. 
200g oats
100g plain flour (regular or gluten free flour)
100g sunflower spread (I used Flora)
Tablespoon of finely chopped fresh rosemary & thyme. 
Salt to taste. 
Little cold water to bind. 
Preheat the oven to 180c
Mix the dry ingredients together in a bowl. Using your fingers rub the sunflower spread into the mixture until it resembles sand. Then start to work it into a ball of dough adding a little cold water to bind. It will probably need 2 – 3 tablespoons – but add one at a time so you can monitor it. 
Once you have your ball of dough roll it out onto a sheet of baking paper, cut into shapes and transfer the paper to a baking tray. 
Bake in the oven for around 20 mins (or until the biscuits are starting to turn golden brown). Then remove and leave to cool. 
by Ella Easton – For more recipes, visit her blog at www.rabbityfood.blogspot.co.uk