February Recipe: VEGAN FRENCH ONION SOUP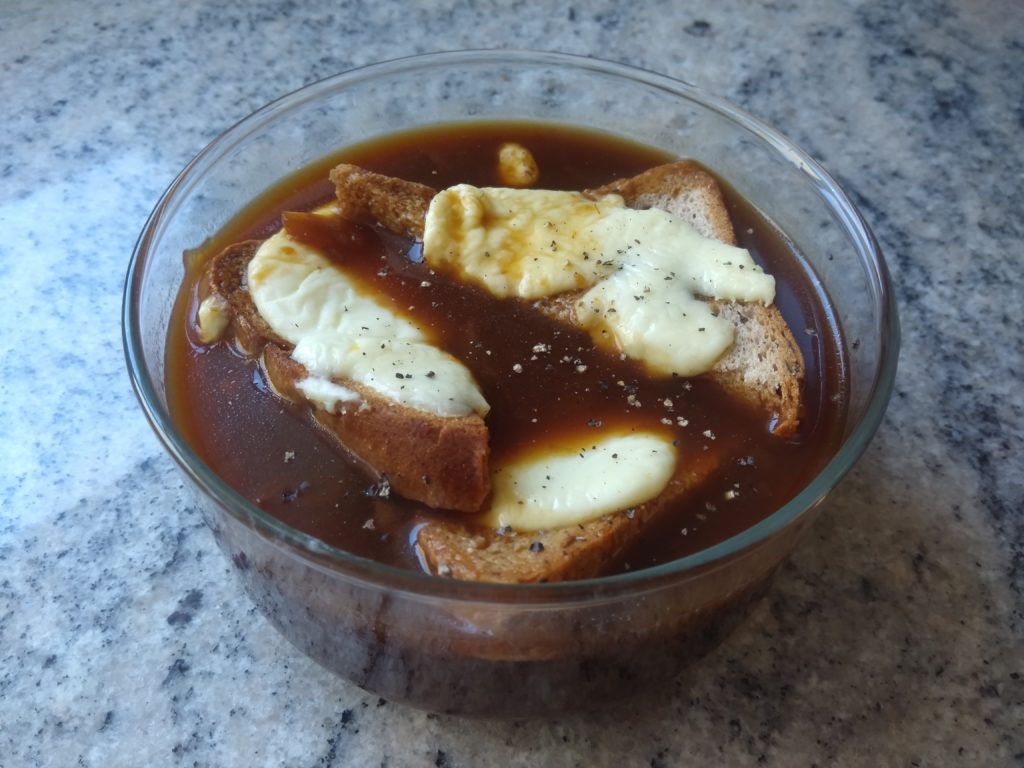 February can be a tough month, we've had enough of the winter and are longing for the sunnier days of spring, which can seem like a long way off. 
For those colder, darker days we get in February, this is the recipe you need.
I've made this vegan, but you can easily use dairy alternatives. 
Serves 4 – 6
6 large onions
4 tablespoons light olive oil
2 tablespoons butter alternative (such as Naturali, or flora)
1 dessert spoon caster sugar
7 cups vegetable stock (mushroom is perfect if you can get it)
½ cup red wine
3 tablespoons brandy
2 teaspoons marmite
6 slices bread or 12 slices from a baguette
200g vegan cheese.
Peel and slice the onions.

 

Place in a frying pan with oil and stir fry over a medium heat until the onions are softened and turning golden brown.

 

Place the stock, marmite, sugar, wine and brandy in a large saucepan and bring to the boil. Give it a good stir to make sure the sugar dissolves. Reduce the heat, add the onions and leave to simmer for about 20 – 30 mins, depending on how thick you want it. (the longer you leave to simmer the thicker it will be.)
Meanwhile, lightly toast the bread.
Grate or slice the cheese and arrange on top of the bread.
Place the bread in the oven (preferably under a grill) until the cheese is melted.

 

If you're using vegan cheese it won't brown.
Divide the onion soup into bowls and top with the bread.

 
Eat!
by Ella Easton. For more recipes, visit her blog at www.rabbityfood.blogspot.co.uk